I HAVE ALWAYS LOOKED INSIDE MYSELF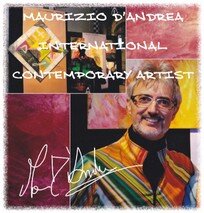 Maurizio D'Andrea was born in Naples (Italy) at the foot of Vesuvius and looking towards the sea. He graduated with honours in Volcanology, and like volcanoes has expressed all his energy and creativity since adolescence.
The artist began painting in oil at a very young age, establishing a deep and visceral relationship with the canvas. He paints with his hands and his works have a great emotional impact, transferring his dialogue with the unconscious to the viewer.
The imaginary landscapes that represent the soul and a series of rooms with doors and windows are the stand-out feature of his early paintings. A continuous look at the microcosm of his conscience.
He also expresses his creativity by writing poems and song lyrics. He strums the guitar to accompany himself as he interprets Neapolitan caricatures, some of his own creation.
In his maturity, the artist straddles very different techniques and types of art: from using computer tools to create digital paintings to more material painting with acrylic on canvas using unusual tools, which allow the inner world to emerge energetically and instinctively. In these different forms of expression we find a common thread, some characterising traits: the representation of movement, which at times seems imprisoned and at other times disruptive and predominant. Not only physical movement, but also that of sensations, perceptions, feelings, moments of life. And again there is the juxtaposition of colours: blacks that reinforce the reds, warm and vital colours combined with dark, more intimate ones, representing what we each may find in the most hidden place.
There is a recurring theme of escape, which usually materialises in the circle, almost always full, very often at the top right, experienced as a push towards finding a solution, a second route to continue on towards new horizons, those impossible horizons the artist is drawn towards.
In digital paintings, the artist expresses his entire inner world through the graphic tablet and specific software for digital art. He is able to express his entire inner world, his energy, using the cold digital language and its software soul.
He is not afraid to use and juxtapose strong chromatic variations; on the contrary, he employs them expertly to amaze the observer and inject energy and movement.
He experiments, writing programming code, generative art, creating on the computer a whole series of drawings where the code is the arm and the artist is the mind. His visions, through drawings, create fantastic landscapes, becoming poetry in the eye of the beholder.
As a creative and experimenter he applies artificial intelligence to his digital creations, alighting on neural art and style transfer where computers can apply the brushstrokes and styles of famous painters to original digital images.
He never stops. His creativity, but above all his desire for research and experimentation, won't let him.
He sculpts: by modelling porous blocks of concrete, he creates several sculptures that represent holograms of his paintings. His pictorial art escapes from the canvas and takes shape in his sculptures, always highly energetic and full of colour.
He has never felt like an artist but always wanted to be one.
His entire creative path can be summed up in four "states": creative extrapolation (a term coined by the artist himself), research, experimentation and humility.
MAURIZIO D'ANDREA INTERNATIONAL CONTEMPORARY ARTIST
I HAVE ALWAYS LOOKED INSIDE MYSELF
I DON'T HAVE THE TIME TO LOOK OUTSIDE